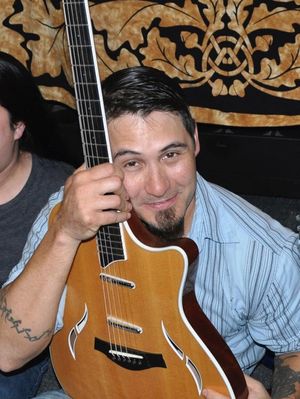 David McCormick: In Memorium
*David passed away in the fall of 2014 after a struggle with cancer, but he will continue to be a huge influence on the band. The following is his program bio from Chance Theater's production of Little Women, Dec. 2012,  one year before his diagnosis:

David McCormick (Fight Director) is thrilled to collaborate with this amazing group of artists. Previous Chance productions include Jerry Springer: The Opera (Ovation Award: Best Musical), and West Side Story (Back Stage Critic's Pick, LA Times Critic's Choice), and Overlooked (Back Stage A+ rating). David is a proud veteran of the U.S. NAVY, a member of the Society of American Fight Directors (Founders Award for unarmed combat and the Examiner's Award for Excellence in four weapons), the Association of Theater Movement Educators, and is an Actors Equity Membership Candidate. He has instructed actors of all skill levels in numerous master classes and workshops. His fight work and movement coaching has been seen in regional productions of MacBeth, Romeo and Juliet, The Merry Wives of Windsor (Southwest Shakespeare Company), The Lieutenant of Inishmore (Actors Theatre of Phoenix), Beauty and the Beast, Man of La Mancha, The Outsiders, True West, The Three Musketeers, and Rebel Without a Cause, to name a few favorites. David holds an MFA in Theatre from Arizona State University and sends his love to his family for their support, the Chance for adopting him into their ranks, and to God for all the blessings in his life.
"Ever the warrior, ever the artist, ever in our hearts."
Time of Your Life (Green Day)